Benefits Of MyProtein

Potency
MyProtein produces highly concentrated products that are perfect for a protein boost.
Most of the powders they make contain 20 or more grams of protein per serving.
At the same time, many of their products are devoid of extra nutrients and little to no carbohydrates. This means that your one scoop will likely be less sweet.
Purity
MyProtein boasts about being third-party verified, which means another company has tested its products to see if what is in the bottle matches what is on the label.
Along with that, they partner with many athletic organizations testing their products rigorously.
As you can see, they take customer satisfaction very seriously!
Variety
Not every supplement out there offers options for just about everyone. MyProtein is a fantastic choice for those that want all sorts of range.
You can get vegan, vegetarian, lactose-free, gluten-free, low fat, low carb, and even other kinds of supplements like vitamins and minerals.
MyProtein Whey Protein Options
While MyProtein offers many options in terms of products and protein supplements, whey is by far the most popular.
There are three different forms of this type of protein that you can find at MyProtein. Each one comes with its unique pros and cons. That all means that certain situations may call for one type of whey protein over another.
Some of the differences include things like protein, lactose, and fat content. But also digestibility and cost.
What Is Whey?
Whey is one of many proteins that make up milk. After processing milk to make cheese, whey is the leftover component found in the remaining liquid.
Most people do not realize that whey only makes up about 20% of the protein content in milk. The rest of the protein comes from casein.
Overall, whey protein is generally the preferred form for people looking to build muscle since it breaks down quickly and can help you increase muscle mass.
You may also find it mixed with other products, and you can add another flavor to make it tasty and delicious. Some people prefer using it as a flavoring agent for a smoothie or shake, sort of like cocoa powder.
Below you will find the three main whey products that MyProtein offers for you.
MyProtein Impact Whey Protein

MyProtein Impact Whey is the least processed form of whey and therefore the cheapest, but that is not bad.
One gram of Impact will provide .7-.8 grams of actual protein. Lactose and fat make up the rest.
All in all, Impact Whey Protein is the richest and creamiest powder offered by the company.
Products that contain whey protein concentrate tend to mix the best and have a superior flavor.
In our opinion, the MyProtein flavors that tasted the best are salted caramel, snickerdoodle, berries, dark chocolate, and Canadian Maple.
Impact Whey has 19 grams of protein in one scoop.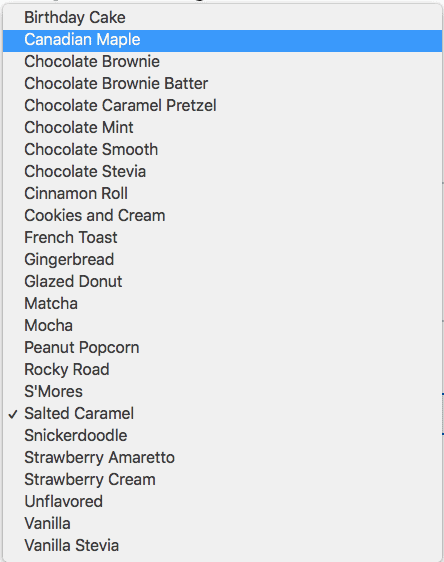 Whey Protein Isolate

Whey isolate has the highest protein concentration at 90% by weight but also contains no fat or lactose.
The extra processing removes most of the fat and lactose. In fact, protein is about the only benefit of using isolate products.
This product also comes in a lot of different flavors and tastes great. If you happen to have a sweet tooth, then the taste may not be sweet enough.
You could add another flavor to your protein powder, like chocolate, vanilla, strawberry cream, or banana to make it tasty. It also does not add as many calories as other products.
This product has 22 grams of protein per serving. It can be a great option for when you want to add nutrients to your meals, including oats or soups.
THE Whey

THE Whey is a premium blend with 25 grams of protein, 3 grams of leucine, and over 5 grams glutamine per serving. It also contains less than 2 grams of carbohydrates.
This product is also suitable for vegetarians and gluten intolerant individuals, but not for vegans.
You can find this protein in many flavors, including chocolate fudge, peanut butter cup, and cookies and cream.
Think of this product as the easiest one to include in your diet, which you can take at any point in the day to support muscle mass growth and stay healthy!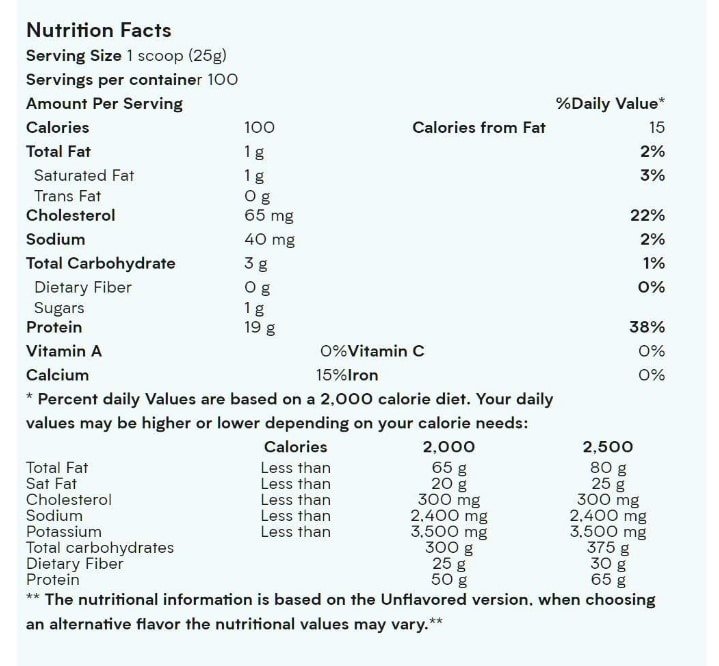 MyProtein Whey Claims vs. Reality
Because whey protein is possibly the most saturated market, it is difficult to make revolutionary claims about these types of products and shakes.
For that reason, many companies have started to differentiate their products in manufacturing and quality. MyProtein likes to drive home the fact that they produce some of the cleanest and highly concentrated.
While we cannot verify that all products are of the highest quality, we guide our review based on customer commentary, nutritional analysis, and other factors, such as price and variety.
Check out MyProtein and you will that almost every review is positive, with many of them being 5-star after purchase. The taste is another reason people seem to give a good review when they buy this product.

MyProtein Products Are For Everyone
Everyone could benefit from trying out whey protein shakes and powder.
From weight lifters to those looking to lose weight or supplementing their diet, MyProtein may be right for them.
When you go to the gym, work out more than others, run long distances, or have long days at work, these protein products may be the right ones for you.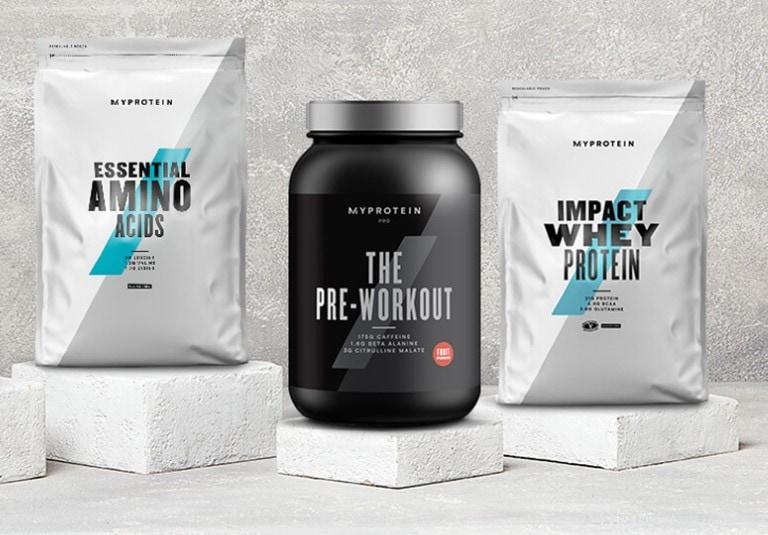 Other MyProtein Options
Whey is not the only option you can always try other products with a different protein flavor, no added sugar, and all available on the same website.
For a more in-depth look at these, check out the reviews left on the page.
Vegan Options
For those looking to stay vegan, pea or soy protein are a fantastic choice. In addition, they also come in various flavors with low carbs and for a good price.
Additionally, these products taste better when you add them to your food, like oats or almond milk.
To boost your nutrition without feeling full or ruining your next meal, try the clear vegan isolate. This is a groundbreaking product that offers high-quality pea protein, but with a light, fruity, taste.
Whenever you need a refreshing drink, try coconut mango or pear ginger. You could even mix it with other fruits for a more satisfying smoothie.
Another plant-based option is brown rice, which comes in chocolate stevia, vanilla stevia, and unflavored.
While the flavor may not be delicious, you can always boost it when mixed with other things. It also contains 80% protein.
Keto and Paleo-Friendly
If you happen to follow a keto diet, try the hydrolyzed collagen protein, which is gluten-free and contains no lactose.
Keep in mind that collagen is essential in building muscle but also in keeping your joints healthy.
Unfortunately, this one only comes in chocolate or unflavored. You can add it to your smoothie, and it will taste just fine. For more flavor, consider mixing with other products.
Consider adding things like chocolate powder, and it will turn out like a delicious pick-me-up or snack without being overly sweet.
Night-Time Shake
When you work out and want to maximize your muscle gain, drinking something with no carbs but a good taste can give you a boost. More so, there is no need to worry about extra calories at night either.
With the slow-release casein protein powder, you will obtain all the amino acids your diet may need.
This one comes in chocolate smooth, cookies and cream, strawberry cream, and more. There is no sugar in any of these, and only natural flavors to add something sweet.
Snacks and Protein Bars
For those that do not want a full shake or meal, why not have a snack? From protein chips to flavor drops, and coffee boosters this is the right place to find a healthy and filling snack.
The protein bars also come in all kinds of flavors, including brownies, nuts, and layered flavors.
Which MyProtein Product Is Best?
Using the right type of protein can make a difference.
For example, pre-digested hydrolyzed whey may be the optimal choice immediately following a workout. During this time, you want to help your body replenish hydrogen stores and begin protein synthesis. It is best to do this within the hour of finishing your exercise routine.
Since it is rich and easy to mix, a whey protein shake may be ideal for intermittent meal replacements. Likewise, the added fat and carbs give you enough nutrients and improve the taste too.
If you follow a vegan or vegetarian diet, you may want to look for a complete protein, such as pea. This can also be used following a workout and without added calories.
When you are on a diet, you may also want to check out the hydrolyzed collagen protein, or the slow-release casein protein.
Others may be interested in weight gain, which is why a meal replacement blend or extreme gainer blend may be superior. This blend can contain more carbs but it has the right mix of nutrients.
Where Can I Buy MyProtein?

The best place to buy MyProtein is on the official website. At the same time, the price may vary depending on products and sizes.
Overall, these products have a good price, especially when you factor in the quality.
Remember that half the time a product will only work if you do some research. Check out the website to familiarize yourself with what it can offer.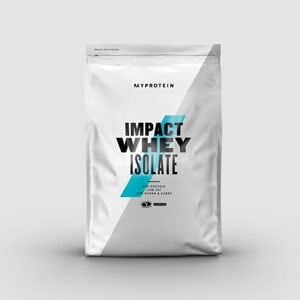 MyProtein Coupon Codes
Online shopping has become increasingly popular in Australia, with many retailers offering a wide range of products at competitive prices. One way that shoppers can save even more money when shopping online is by using coupons and promo codes. For example, check out our Myer Promo Codes or PetStock Promo Codes, they have daily new offers and coupon codes.
Coupons are discounts from MyProtein can be applied to a purchase in the form of a code, which can be entered at checkout. Promo codes are similar to coupons, but they are typically offered as part of a promotional campaign and may have a limited time period in which they can be used.
There are a variety of ways to find MyProtein coupons and promo codes for online stores in Australia. Some retailers will offer them directly on their website or through their email newsletter. Social media platforms, such as Facebook and Instagram, are also a great place to find coupons and promo codes, as many retailers use these platforms to promote their products and sales.
When using a coupon or promo code, it is important to read the fine print and make sure that the code is still valid and can be applied to the products you are purchasing. Some coupons may have exclusions or restrictions, such as a minimum purchase amount or a specific product category.
Using coupons and promo codes at MyProtein can help shoppers save money on their online purchases. By taking the time to find and use these discounts, shoppers can stretch their budgets further and get the most value out of their online shopping experience.

In conclusion, Coupons and MyProtein Promo codes are the best way to save money when shopping online in Australia. These discounts can be found on retailers' websites, social media platforms, and online coupon websites. It is important to read the fine print and make sure that the code is still valid and can be applied to the products you are purchasing. It is a great way to stretch your budget and get the most out of your online shopping experience. At the list on top of this page, you'll see all the offers, coupons, coupon codes and discounts currently available at MyProtein. Easy, right? This listing was last updated on 05 December 2023.
What is a MyProtein coupon code?
A coupon code from MyProtein is an alphanumeric code that you used to get the discount on your order. These Coupon Codes are also called coupon code, promotional code, discount code, promo code or coupon. Webshops from around the world use these types of codes to give discount to their customers on certain products or orders.
How can I use a MyProtein coupon code?
An action code or promotional code from MyProtein Can be used in two ways. The first way is by simply clicking on "SHOW CODE", copy the code and paste it into the shopping cart of the webshop. The other way is by clicking on 'VIEW OFFER', you will then be redirected directly to the webshop and the discount will be applied automatically.
How do you find a coupon code at Kuponation.com? First of all, look for the desired store in the search bar at the top of this page. Are you looking for a particular product or brand? Then you can type it in the search bar. You can also find your desired webshop in our "SHOPS A-Z" or "CATEGORY" overviews. If you've come to our webshop page, choose a coupon code or offer you'd like to use.
FAQ
What are the promo codes and offers currently valid for MyProtein at December 2023?
Right now, there are 12 Coupons codes and 12 offers available for MyProtein:
50% OFF EVERYTHING
Verified 40% Discount On $60 Purchase with us
40% OFF Secret Sale From My Protein Australia
My Protein Australia 35% OFF Pay Day Sale Extra 10% OFF Bars & Snacks + 5% OFF Vitamins
How often does MyProtein release new coupon codes?
Lately we've discovered a new discount code from MyProtein every 30 days. Over the last 90 days we've found 12 new coupons from MyProtein.
How much can I save by using a coupon at MyProtein?
The best discount we've found is a code for $150 OFF. MyProtein shoppers save an average of 25 times at checkout.
How do I get the latest deals from MyProtein?
Subscribe to Kuponation.com's email alerts for MyProtein and we will send you an email notification every time we discover a new discount code. If you can't find a working coupon code right now, subscribe and receive the latest deals as soon as we discover them.
Are there any active coupons at MyProtein at this time?
Yes! Right now on Kuponation.com, you can find 12 coupons for MyProtein that are verified and working. MyProtein coupons and vouchers found on Kuponation.com have been used 25 times equalling lots of savings!
The entire content of this site is copyrighted (all rights reserved © 2023).